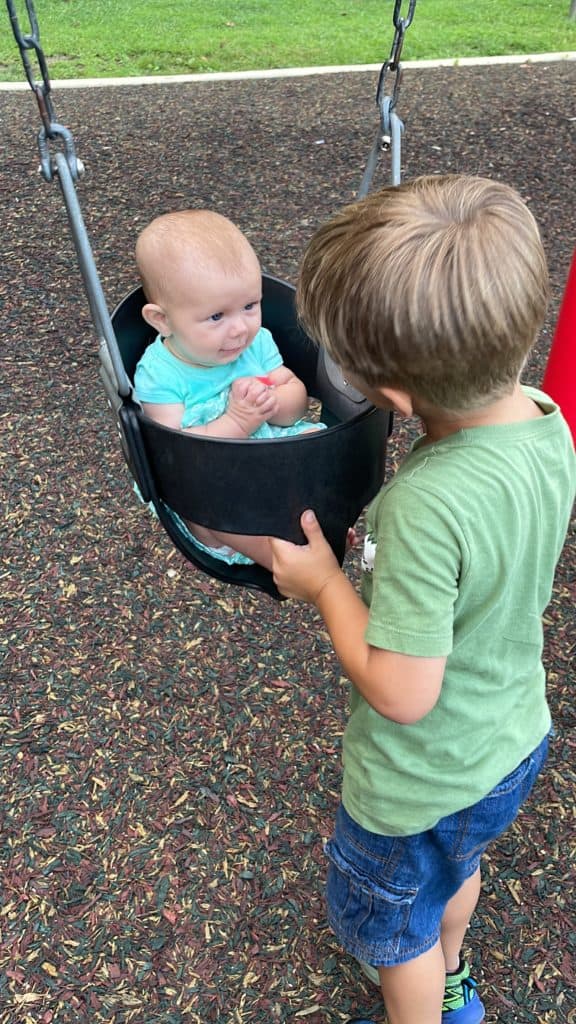 Meet Jackson & Julianna!
These kiddos are the inspiration behind the brand! Jack is short for Jackson … even though we have never called him Jack … but if you ask him Bubba is his middle name! The beautiful thing about a 4-year gap in age is our son creates the dynamic for our newest addition, Julianna, as far as nicknames! Jackson calls her "Joo-knee-Anna" or "Juni" and therefore Jack & Juni was born!
Formally, IBH Creations & Boutique, which was short for Inspire. Believe. Hope. and focused on inspiring women to feel beautiful and confident. After Jackson was born we slowly moved into Baby / Toddler offerings that we believed in and used ourselves. When you love what you sell, the sale just feels different! With the rebrand of Jack & Juni, we aspire to curate a variety of products, price points, and product offerings for fellow mamas. PLUS — we aren't giving up women's items TOTALLY — but we will definitely be more MAMA-focused!
One of the major launches we did while still IBH was our Kid's Resale division. We constantly were asked if we would carry retail kid's clothing and the short answer was always … NO. I personally don't shop retail for my own kiddos so it wasn't something I was passionate about. Resale kid's clothing took off and we now have thousands of pieces in stock to shop online and in person! With the rebrand, we are adding toys and baby gear too!
Our boutique will quickly become your go-to for all things retail and resale for babies and toddlers! When you are passionate about what you offer other mamas can learn to trust and love the products just as much as you do! We hope our customers see that Jack & Juni is a family brand where mamas and dads are simply trying to raise businesses and babies while giving our customers products they can fall in love with over and over again! We cannot wait for this new journey and thank you for joining us on this journey!
Why Choose Us
Why Choose Jack & Juni
01.
Curated Selection
We offer a carefully curated collection of baby/toddler products we have fallen in love with, trust the brands, or have created personally in-house! The products we sell we have in our house, our diaper bag, and at our businesses for our own kids because we believe in them. It isn't just a sales pitch here… it is a product recommendation.
02.
Educational / Sensory Focuses Items
As you browse our collection you will see a number of sensory, educational, silicone, and wood-based toys. We strongly believe in the use of tools for those sensory kiddos and love that the longevity of wood-based toys/items is unmatched. We also carry some well-known brands to the baby/toddler community, because well … they got it right and we are happy to support them and their products!
03.
Mama Items
We know when we hinted at the rebrand many assumed it was going in a more baby/toddler direction and well … it is! BUT …. we wouldn't leave our mamas out! We will always have a section for our mamas to grab a little something for themselves when shopping for their kiddos. Though it may be more baby/toddler mama geared, we will certainly never leave out the mamas who brought these beautiful kiddos to shop with us!
Jack & Juni will quickly become your one-stop destination for all your retail and resale needs for those growing kids!